Pariah by Dan Abnett – review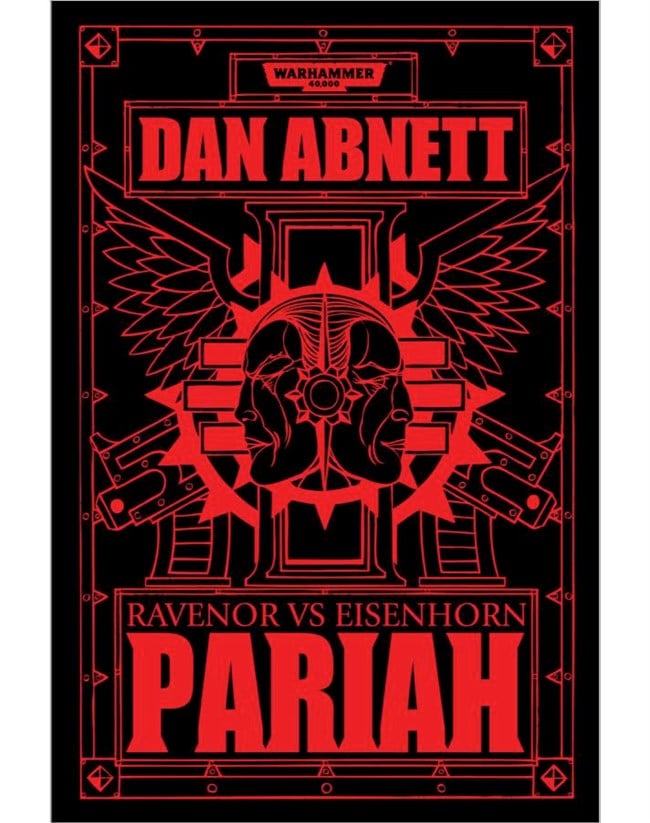 Out in November in Hardback, Pariah is book one of the Bequin trilogy. Penned by the master himself, Dan Abnett, this novel is the beginning of his third Inquisition trilogy. The first and second, Eisenhorn and Ravenor respectively, remain immensely popular, and after a very long wait Abnett has put pen to paper to bring the saga to its conclusion.
If you haven't read the first two trilogies then I urge you to get your hands on them now. You will understand this story without them, but I think you'll get much more from it if you've read them. They are, collectively, amongst my favourite SF books of all time.
I've been a huge fan of this author for many years; I think I've read everything he's ever written for Black Library as well as a couple of his independent novels. And yet, whenever I think I have his measure as a writer, he surprises me. Pariah continues that tradition. From the opening pages there is a very noticeable difference in his writing style. The book is narrated by its protagonist, Alizebeth Bequin, an untouchable, a rare genetic mutation that means the person has no presence in the warp: the Pariah of the title.
She is telling her life story from some unspecified point in the future. As an agent of the Inquisition, she has lived the most extraordinary life, and yet her tone conveys the fact that part of her remains the young girl whose story she relates. How Abnett conveys this so clearly, her language and her tone, I cannot say; but it is clear nonetheless. There is a very feminine edge to the writing, and her presence really comes off the page. Her very personal narration had me from the  first page to the last. I felt this was Abnett's great masterpiece. Until his next one.
He's also introduced a new type of character to this book- a city. Queen Mab, the city within which the story takes place, is as much a character as any of the people. It is a fascinating place with the weight of history about it. It lends the story a tremendous presence and gravitas that would otherwise have been missing in any lesser setting.
I realise that I'm describing the book without telling you an outline of the story. For me, a big part of the experience of my first read through was the mysteries that are revealed as the story unfolds. Alizebeth Bequin is the name of a character from the Eisenhorn trilogy, but the story that unfolds in Pariah speaks to a very different history compared to the first trilogy; is this the same character? The confusion this engendered in me mirrors the confusion of the character whose history is unknown to her and whose certainties are destroyed steadily throughout the story. I'm going to have to be damn careful when giving the outline not to ruin that. (Though, for the sake of completeness, I should mention that my second reading was no less enjoyable.)
Alizebeth Bequin is an orphan, with a unique genetic heritage. Raised in a school created to train Inquisitorial agents with the Pariah gene, this school's exceptional students enjoy the city of Queen Mab as both a classroom and a playground. When the school is attacked by powerful enemies, the students are ordered to disperse and immerse themselves in one of their previous covers until help arrives. Caught in a struggle between two powerful Inquisitors and their allies, Alizabeth is thrust into a dangerous game where she is the prize and nothing is as it seems.
…Yes, I think that will do.
There are numerous set pieces in the book that are just beautiful to read and impossible to put down. Bequin's narration is so heartfelt and earnest that I was taken into her world in very visceral way. I think this story more than any I've read before conveys what it's like to live in the forty-first millennium and what it is to work in the shadowy world of the Inquisition. I think this is because while the earlier trilogies focussed on Inquisitors with almost limitless resources and a clear mission, this book tells the story of a character who, though well trained, is made so very vulnerable by a world where nothing and no one can be trusted.
I will say that this story demands patience, it demands that the reader read on while holding their uncertainty; but without being derailed by it. Take comfort from the very compelling personal testimony of the title protagonist and keep going. It is a truly exceptional story that should cement Abnett's reputation as a master wordsmith.
An exciting, inspiring start to what promises to be his greatest trilogy yet.
Until the next.